The world of 3D printing has opened up an unlimited about of possibilities of creating other peoples designs and as such, is filled to the brim with concerns about Intellectual Property (IP) law. As a designer, I know the importance of IP and have worked under a Secret clearance at my past two jobs while also authoring my own patents and reading and working within the restrictions of existing patents for new inventions. I have a variety of measures I undertake to deal with IP laws ensuring you can be safe with me handling your print job.
Non-Disclosure Agreements: I have my own standard NDA I use and can also sign any that you or your business provide me with.
All of my colleagues and associates work under this NDA and no job is seen by them without permission from the customer.
Ownership of files: At all times, the customer is the owner of the 3D files we produce and reserves the right to request us to delete any files we may have generated for their particular job.
Deletion of files: By standard, we remove all 3D files for a customers job where they provide the files to me upon completion of the project.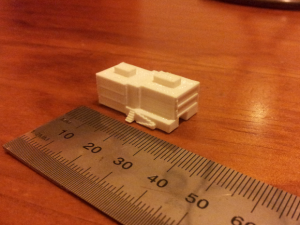 I strive to ensure that my customers are repeat buyers and will spread this business through word of mouth and as such, ensure that everyone is well aware of the capabilities of 3D printing and that my works will suit your needs. I guarantee that all of my prints are fit for the purpose they are designed for however I must inform customers that prints are plastic and as such can be broken or degrade when used incorrectly which will not be covered under any warranty. They will not survive harsh environments like salt water, concrete on a hot day and powerful machining processes like being cut with a jigsaw. If you would like a sample piece printed so you can inspect the quality for yourself or even miniature scaled-down versions of your model before making a final order, I can send these out for free (depending on overall size and design time).
3D printed prototypes are made from plastic using a meshed interior to rapidly increase the print time and decrease costs, this can greatly alter the strength and integrity of parts. If I believe a part will not survive its intended operation due to the reduced strength of a 3D print compared to a molded piece, I will always advise on this. Please refer to my guide on 3D printing, section 1) for suitability of plastic and section 3) to learn about the internal structures of 3D prints.
In any scenario, I strongly encourage the customer to speak to me about the printed parts ideal usage where I may alter the design to suit. I may make the part more solid or give it thicker walls to be more resistant to damage.
Part accuracy and guarantees
3D prints dealt with through his business are accurate to within the machines accuracy of +/- 0.2mm. It is very common for 3D printed parts to require some filing or sanding to get them to the correct dimensions. Ambient temperatures through the day and night in summer and winter can lead to different expansion and contraction rates to possibly send these tolerances into 0.3mm however on average 0.2mm is the stated spec on our machines. When prototypes are required to have a tight fit, this MUST be accounted for. A rod which expands 0.2mm will need to fit into a hole which has contracted 0.2mm, therefore a tolerance fit is actually 0.4mm. There are further considerations with the shrinkage of large parts made from certain materials, I will always advise on this in the ordering process. Please refer to section 5 of my guide for specifics. If a printed part falls out of tolerance, let us know and we will make every effort to correct it or refund if needed.